How To Use The NZAA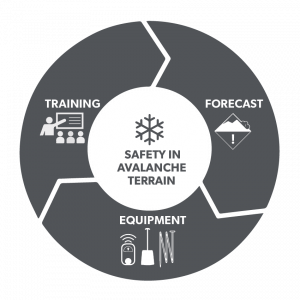 Safety In The Backcountry
1) Understand the avalanche forecast for the region you'll be travelling in - This is what the NZ Avalanche Advisory (NZAA) website is all about!
2) Have the necessary avalanche rescue equipment. For more info click here.

3) Have the training and knowledge to avoid avalanche terrain

. For more info click here.
Step-By-Step
How to read a forecast
This site has been broken down into twelve regions that have been mapped and are forecast through their respective seasons. The exact dates for the 'season' change year on year. Aoraki / Mt Cook is the only region that forecasts all year.
Reading the forecast is broken down into the following steps,
Select the region you're heading into either via the appropriate tile.
Read the danger scale
Read the 'Primary Avalanche Danger'
Read the 'Secondary Avalanche Danger'
Read the 'Tertiary Avalanche Danger'
Read about any recent avalanche activity
Read about the current snowpack conditions
Read the mountain weather forecast for your region
Read about the 'Sliding Danger'
Read the public observations for your region
Take a course
We've developed an online beginners course for those new to backcountry recreation. Although this is a great starting point, this course shouldn't be seen as a replacement for hands-on training. Head to our Course Providers section for more information.
What's next?
You should share the avalanche and weather forecasts with your group and decide on a trip plan. This may require a change of location depending on the conditions. For more information on how to plan your day/s head to the Trip Planning section.