What's the NZ Avalanche Advisory?
Welcome to the The NZ Avalanche Advisory (NZAA), New Zealand's official backcountry avalanche forecasting network. The NZAA provides public avalanche forecasts for 12 regions across the country. These forecasts make up one component of travelling safely in avalanche terrain, along with carrying the appropriate rescue equipment and getting the proper training.

Jump through the sections on this page to kickstart your learning:
What is avalanche terrain?
Avalanche terrain is any terrain or slope in the mountains where an avalanche could occur under the right conditions. The NZAA is all about assessing those conditions and predicting what could happen in avalanche terrain as a result. This potential for avalanches is reflected in the assigned 'danger rating' for the forecast.
What are the forecasts for?
These forecasts advise users of avalanche danger in each region. These avalanche danger levels come from the NZ Avalanche Danger Scale (seen below) which is identical to the North American Avalanche Danger Scale. This scale has been adopted by all English speaking countries. These dangers are applied to 3 elevation bands so that users recreating at different altitudes on the mountain can have a more tailored forecast for where they will be. The forecaster will also have a key message at the top of the forecast explaining the key takeaway points for the forecast period.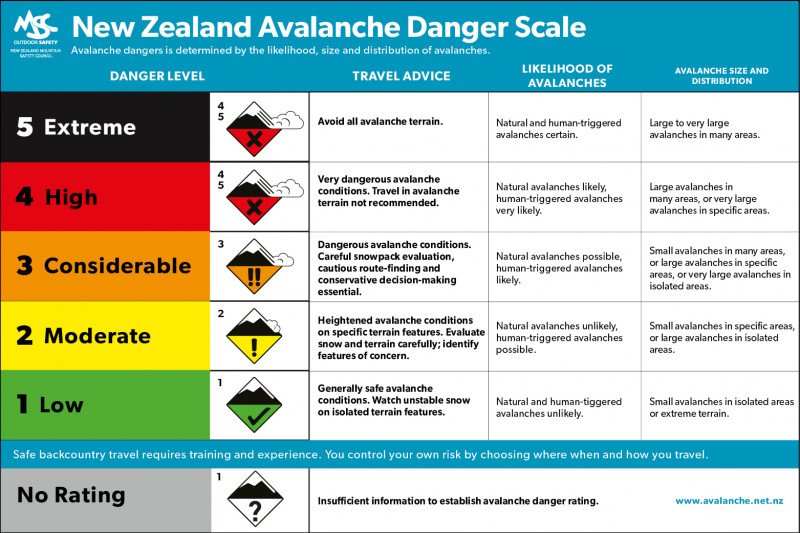 A key thing to remember is that these forecasts do not apply for skiing or recreating inside a ski area boundary. That ski area will usually perform their own avalanche control work to manage the avalanche hazard. These forecasts are for the backcountry; areas in our mountains that are not actively managed to mitigate against the avalanche hazard. This is often due to their vast size (think Aoraki/Mt Cook National Park!), but the backcountry also begins as soon as you leave the ski area boundary.
So how do I use the forecast?
Good question! For an introduction to the components of the forecast see our below video on 'How to use the NZAA'.
We also have a free Online Avalanche Course that you can work through at your pace to learn the basics on identifying avalanche terrain, learning about different avalanche types, and getting a few tips on rescue techniques. This is a great taste (not a replacement) of what you'll get on an in-person, practical Avalanche Awareness or Backcountry Avalanche Course.
Why do I need training?
Proper training is essential to fully understand the avalanche forecast and interpret the information correctly. It will also give you the tools to make decisions based on what you are seeing out there in person. Attending an Avalanche Awareness (1-2 days) or Backcountry Avalanche Course (4 days) allows you to soak up this information and put it all into practice in the snow. Nothing beats real-word, practical experience! For a list of course providers, check out our Avalanche Course Providers page.

What's the equipment for?
Avalanches are far from an exact science. As a result it's still very possible that even with good training and an understanding of the forecast, you could still get caught in an avalanche. That's why it is extremely important to carry an avalanche transceiver, probe and shovel. The transceiver makes it possible for you to find others carrying a transceiver if they are buried. It also means you can be found if you're the one buried!
The shovel and probe are essential tools to allow you to find the exact location of a buried victim and dig them out as soon as possible. When someone gets buried in an avalanche, the clock is ticking. These tools help you make the most of the little time you have. Avalanche courses will teach you how to use all of this equipment correctly and efficiently so that you have the best chance of saving your friends.
Where can I learn more?
Check out our resources on avalanche.net.nz. Here we have information on avalanche safety, education and courses available around the country for getting the appropriate training plus some excellent avalanche safety videos to get you started. Now get learning so you'll be prepared to head backcountry!
Safety in the Backcountry
To keep you and your group safe, you will all need to cover these 3 elements:
1) Forecast: Understand the avalanche forecast for the region you'll be travelling in - This is what the NZ Avalanche Advisory (NZAA) website is all about! Get the forecast
2) Equipment: Have the necessary avalanche rescue equipment. For more info click here.
3) Training: Have the training and knowledge to manage your travel in avalanche terrain. For more info click here.